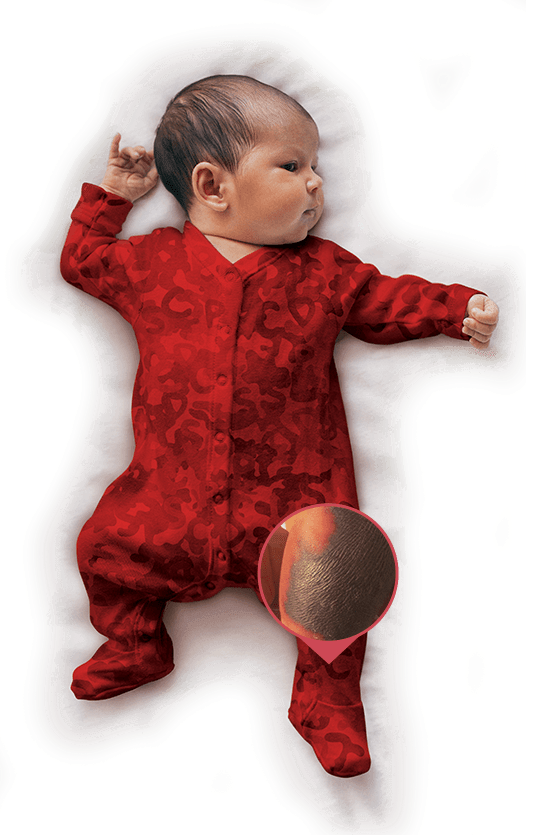 Purpura fulminans lesion on left calf of newborn.
The child above is not an actual patient, and is portrayed here for illustration purposes only. The depiction of a purpura fulminans lesion is from an actual SCPCD patient.*
Severe Congenital Protein C Deficiency is a rare autosomal recessive disorder that leads to high initial mortality and long-term morbidity in survivors.1,2
In neonates, SCPCD can manifest, as early as 2-12 hours after birth, as purpura fulminans with necrosis of the skin, disseminated intravascular coagulation, arterial and venous thrombosis.2-4
READ MORE
Sometimes, purpura fulminans 
can hide SCPCD.
A frequent cause of purpura fulminans in neonates is severe infections and associated sepsis. However, Severe Congenital Protein C Deficiency (SCPCD) can also lead to purpura fulminans, with lesions appearing as early as 2-12 hours after birth.1,3 A timely protein C test can help physicians diagnose and manage this rare condition, allowing rapid management that may reduce morbidity and save the lives of infants.2,3
READ MORE
References:
Chalmers E, et al. Purpura fulminans: recognition, diagnosis and management. Archives of Disease in Childhood. 2011;96(11):1066-1071.

Goldenberg N, Manco-Johnson M. Protein C deficiency. Haemophilia. 2008;14(6):1214–1221.

Price VE, et al. Diagnosis and management of neonatal purpura fulminans. Semin Fetal Neonatal Med. 2011;16(6):318-22.

Marlar RA, et al. Report on the diagnosis and treatment of homozygous protein C deficiency. Report of the Working Party on Homozygous Protein C Deficiency of the ICTH-Subcommittee on Protein C and Protein S. Thromb Haemost. 1989;61(3):529-31.

Kroiss S, Albisetti M. Use of human protein C concentrates in the treatment of patients with severe congenital protein C deficiency. Biologics: Targets & Therapy. 2010;4:51–60.
* Purpura fulminans photo above courtesy of Bubl B, et al. Neonatal Purpura Fulminans, Swiss Society of Neonatology, University Children's Hospital of Berne, Switzerland.